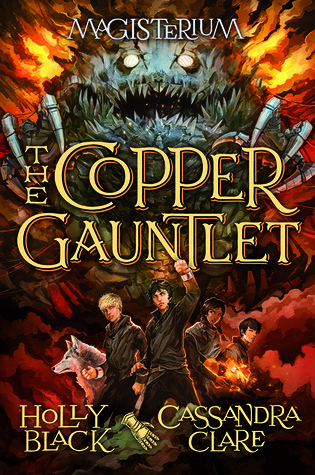 Hardcover
 304 pages
Published September 1st 2015 by Scholastic
Callum Hunt's summer break isn't like other kids'. His closest companion is a Chaos-ridden wolf, Havoc. His father suspects him of being secretly evil. And, of course, most kids aren't heading back to the magical world of the Magisterium in the fall.

It's not easy for Call . . . and it gets even harder after he checks out his basement and discovers that his dad might be trying to destroy both him and Havoc.

Call escapes to the Magisterium — but things only intensify there. The Alkahest — a copper gauntlet capable of separating certain magicians from their magic — has been stolen. And in their search to discover the culprit, Call and his friends Aaron and Tamara awaken the attention of some very dangerous foes — and get closer to an even more dangerous truth.

As the mysteries of the Magisterium deepen and widen, bestselling authors Holly Black and Cassandra Clare take readers on an extraordinary journey through one boy's conflict — and a whole world's fate.
This book was a little slow for me but, overall I enjoyed this installment. I really don't see the similarities to Harry Potter while reading the book. Once I am done and it is pointed out I can see it but that can be said about a lot of books. I feel that this story stands on its own merit and not some sort of twisted retelling. It's hard to write a book now a days with a magic system and not be compared to Harry Potter. I think this book has it own unique story and characters. I am looking forward to continuing on with this very fun and fascinating story.
Paperback
144 pages
Published November 12th 2014 by Image Comics
Every ninety years, twelve gods incarnate as humans. They are loved. They are hated. In two years, they are dead. The team behind critical tongue-attractors like Young Avengers and PHONOGRAM reunite to create a world where gods are the ultimate pop stars and pop stars are the ultimate gods. But remember: just because you're immortal, doesn't mean you're going to live forever.
My Thoughts:
Great art but very weird book. I only rated it 3 stars because of the art. I will not be continuing with this series.