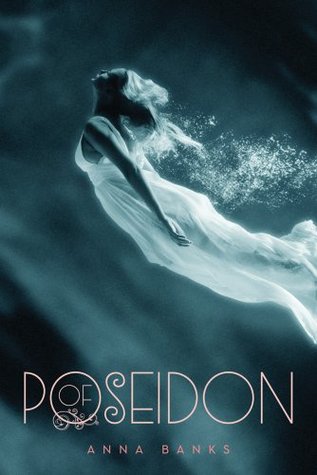 Hardcover
324 pages
Published May 22nd 2012 by Feiwel & Friends
Galen is the prince of the Syrena, sent to land to find a girl he's heard can communicate with fish. Emma is on vacation at the beach. When she runs into Galen—literally, ouch!—both teens sense a connection. But it will take several encounters, including a deadly one with a shark, for Galen to be convinced of Emma's gifts. Now, if he can only convince Emma that she holds the key to his kingdom…
Told from both Emma and Galen's points of view, here is a fish-out-of-water story that sparkles with intrigue, humor, and waves of romance.
My Thoughts:
I loved this first book .  I needed a distraction and this provided it.  I was on the verge of a reading slump and this kept me moving forward.  This book has great characters, beautiful settings, and a lot of violence.  This novel is about mermaids but it never felt like I was reading a cheesy retelling of the Little Mermaid.  Which, I have found to be true of several other mermaid novels that I have read in the past. First off,  this books characters do not like to be called Mermaids they prefer Syrena instead and find the term Mermaid offensive.  They are not scaly like fish but soft like dolphins.  They can take human form even in water which is a big difference than in other books.
This book starts off with a major tragic event and just snowballs from there. Emma our main character goes through a tragic event and on top of that she finds out she isn't even human. Talk about having your life turned upside-down. Although through it all she holds it together and is able to deal like a normal teenager. With a kind heart and a very stubborn attitude that resembles a brick wall she keeps moving forward.
The story itself was extremely well written.  The romance was slow and frustrating but the good kind of frustrating. I was never bored or thinking that this is a silly love story like so many are.  The romance was fun, sexy and full of angst which made this completely believable.
I was so intrigued by this story line that I couldn't put it down and so,  I read it in one day.  I haven't read a book over three hundred pages in one day in a long time.  I was just looking for a light read but what I got was so much more. Now I can't wait to continue on with this series.  This is a book that I highly recommend to everyone!!!